The Event App That Delivers Everything Attendees & Meeting Managers Want & Need
With everything from customized branding to cool gaming and more...
Your Attendees Expect Seamless, Accurate, Instant Information … And Fun.
Mobilized Meetings delivers.
EASY PRE-REGISTRATION


Registering is quick, easy and supported by a sophisticated back end

PERSONALIZED SCHEDULES


Attendees know what to attend, where to go and if last-minute changes are made.

CONTENT MANAGEMENT


Don't worry about uploading content and media to the app. You send us content and our team handles the rest.
TEAM BUILDING


The app engages attendees, inviting them to team, collaborate and cooperate to answer questions posed.

FULL SUPPORT


We're with you 24/7! From the start of the project through event completion. Enjoy on-site or phone support.

BRANDED APP


We'll incorporate your logo, color palette, key sponsor brands and more into every aspect of visible screens.
Mobilized Meetings App Tour
Developed by meeting planners - field tested by meeting attendees - Mobilized Meetings delivers the features that mean business.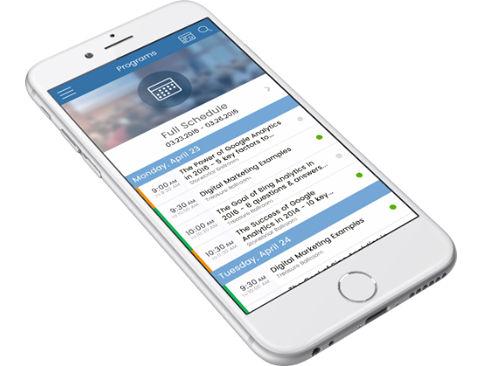 Programs
Mobilized Meetings includes a programs page showing all event programs (for all days or per day; your choice). Each program's detail page can be used to provide a detailed description; the program's room location, date and time, speaker information and bio and more. All such info is displayed on both screens (programs & detail).
Personalized, attendee schedules can be presented in one of two formats: 1) manually selected "My Schedule" 2) Pre-registered program selections via RegOnline.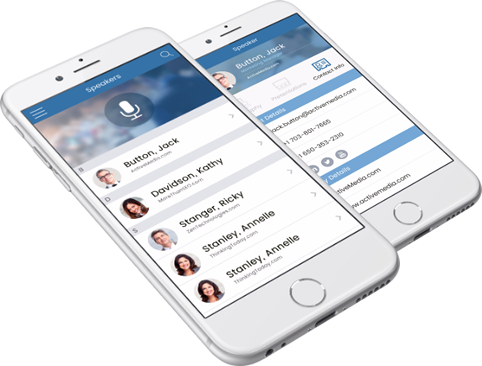 Speakers
One screen displays the full list of event speakers. Clicking on any of the speakers brings up the respective speaker's detail page. On this page users can review program offerings and decide which programs to attend. There also is an option to add a speaker's bio and photo. Last, but not least, the speaker's personal contact info can be shared with the audience (company, email, phone, socials, etc.)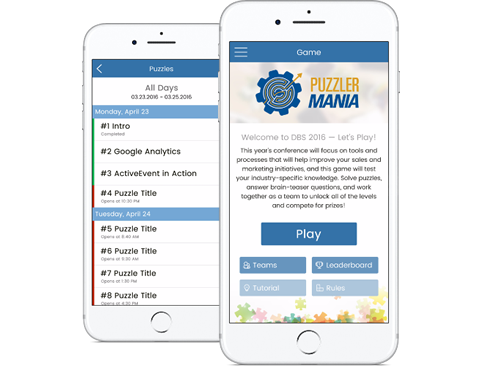 Game
People -- even those attending a serious business conference -- still enjoy some fun.  The purpose of including a game as a feature of Mobilized Meetings is to enable meeting managers to gift attendees with a relaxing, enjoyable, mental break, without ever leaving the meeting site.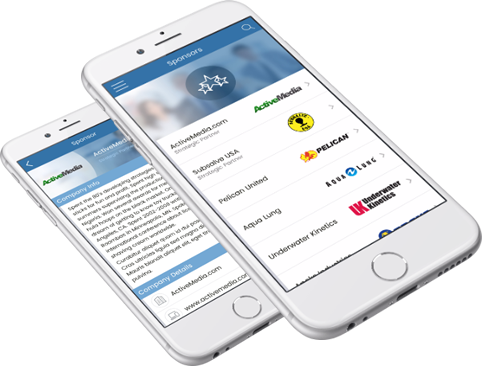 Sponsors
Sponsors are essential to bottom-line event success. Mobilized Meetings includes a dedicated page  listing all sponsors. There's also an option to add labels for sponsors (e.g. platinum, gold, silver, etc.) to indicate their level of participation and support. These labels can be changed. The sponsor details page provides an option to add a description about the sponsor, but there also is an option to add a "sponsor representative" - a sponsor company representative attending the event.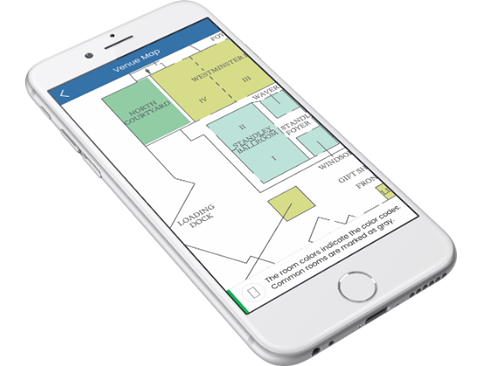 Venue Map
We request a blueprint of the event venue which we slightly modify for untility in the Mobilized Meetings app. We highlight the rooms in which programs take place and use colors for easy identification. This updated map is attached to the app to ensure everyone finds rooms they are looking for. In addition these colors are also visible on the programs screen.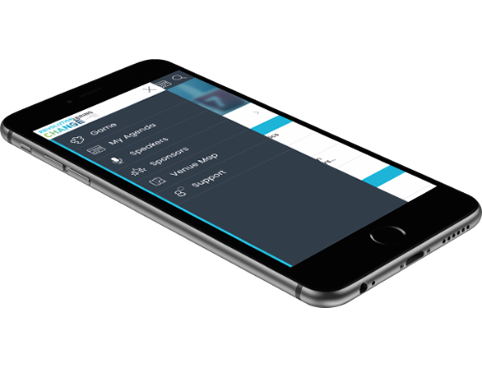 Unique Customization
But wait .. there's more. At your request, we can add and even develop a range of custom features, new sections, updated menus and more.
If you need it, we'll make it happen!
Turn Passive Attendees into Active Participants
Mobilized Meetings offers a basic game as part of the purchase. However, we also are available to gamify custom concepts to match the meeting's purpose.
The basic game provided is a puzzle and operates as follows: 
An image is split into 12 tiles; the game starts with these tiles covered. 
Each tile has a question on it.  When the question is correctly answered,  a part of the image is revealed. 
The goal of the game is to uncover all the pieces to solve the puzzle. Attendees are in teams (3-10 players per team is ideal). Each team member see the same puzzle and can individually "claim" a question and answer it, and his/her performance impacts the entire team. 
To keep teaming lively, engaging and productive, during the conference, we advise posting two puzzles per day.
Standings are available and posted in the app and also can be reached online. A rules page, team page and a game intro also are included.
The game can be locked (e.g., during presentations). Each puzzle can be opened one-by-one on a different day/time.
Why Mobilized Meetings?
While there are a number of event apps available, only Mobilized Meetings offers a broad spectrum of features and functions, paired with completely customized gaming for each client event and affordably priced, fixed-fee, package pricing that meeting managers want.
Full-Service Experience
Content Management
Custom Branding
Onsite or Phone Support
iOS & Android
Flexibility & Scalability
Unique Customization
3rd Party Software Integration
iBeacon Integration
Offline Mode
What Our Clients Say
While we are always happy to say good things about our product, we like it better when our satisfied clients say it for us:
"Mobilized Meetings' innovative app put the entire conference in the hands of event managers, exhibitors, attendees and venue staff, enabling us to instantly communicate about everything from last-minute agenda changes to addressing stubborn tech crises during presentations."
Kirsten Paust, VP of Strategic Development, Danaher Corporation
"The final product turned out great. It allowed us to incorporate other aspects that can't be done in a packet—for example, it helped drive social media interaction through Twitter. We (updated) our news section throughout the weekend and provide(d) last minute materials without rushing to the printer and re-stuffing in 150+ folders … Support was excellent—constant, timely, and super helpful!"
Sara Jacobsen, MIT's Sloan School of Management Admissions Office